The delivery of the project will consist of eight work-packages (WPs), as follows:
The Management coordinator is Augusto Vaglio.
The Technical coordinator is Mark Little.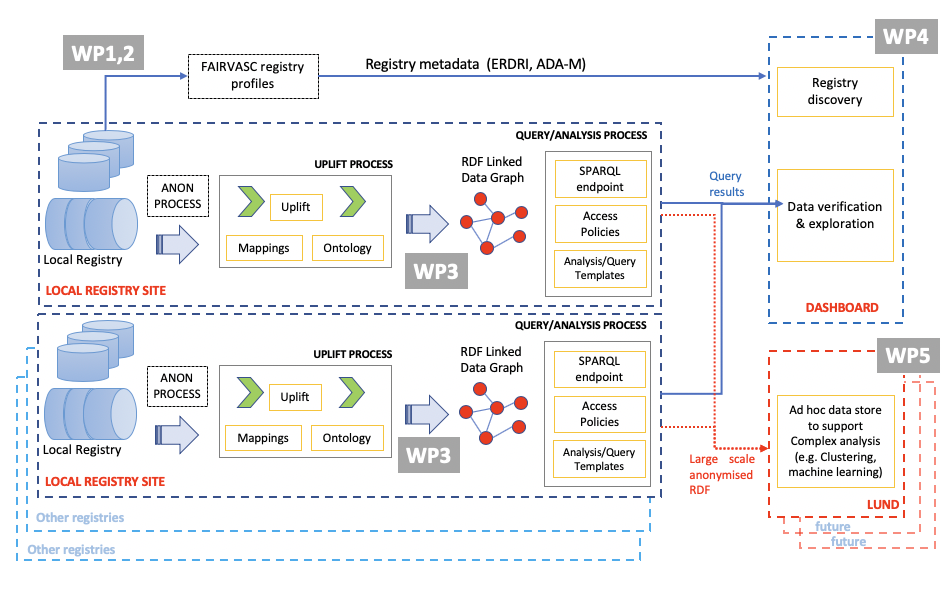 WP1 Registry profiling & data preparation, led by GLASGOW (Neil Basu), will create a set of metadata records for each registry that describe the holdings, the data quality and completeness, the access policies, the patient consent status and other relevant characteristics of that registry. It also quality-assures and selects high-quality data in each registry and anonymises it, in preparation for uplift (WP3). This lays the foundation for RDF uplift (WP3), but also provides an essential 'handbook' to the registries, for use in all future research.
WP2, Legal and Ethical, led by TCD with support from the Data Manager, will capture the legal and ethical environment of each registry, patient perspectives on data sharing and re-use, and also the national and international legislation and regulations that apply to FAIRVASC. A checklist of legal and ethical points will feed into all technical work and will enhance the 'handbook' generated in WP1. Legal and ethical clearance for all FAIRVASC activities will be secured in this WP.
WP3 RDF Uplift, led by TCD-ADAPT (Declan O'Sullivan and Mark Little) and the Data Manager, will map ('uplift') local data to a standardised RDF triple-store at each registry. Access to the triple-store will use a local SPARQL end-point, which will support simple exploration and data verification over SPARQL, subject to local access control policies and FAIRVASC code of practice.
WP4 Dashboard, led by TCD-ADAPT (Declan O'Sullivan and Mark Little), will provide a centralised secure online access point to services including registry identification, data assessment and verification. The dashboard will be co-designed with clinicians, patients and the legal team.
WP5 Risk Stratification, led by LUND (Aladdin Mohammed), will leverage the dashboard and linked registries by carrying out important new research in AAV: phenotypic clustering for stratification, and evidence-based risk scoring. This uses a combination of dashboard services and special-purpose data pooling. This WP5 will also explore cutting edge distributed learning techniques to address these questions.
WP6 Communication and Training, led by KRAKOW (Jacek Musial), will share the work of the project and encourage the re-use of the federated registries and underlying technologies in other rare diseases. Training of teams beyond the project consortium will be a major focus.
WP7 Dissemination and the Future, led by PRAGUE (Zdenka Hruskova) and the PAOs, will share the results of the project with the research community, industry, patients and PAO, including EUVAS, RD-CONNECT, ERDRI, and GO-FAIR. Long-term sustainability of the technology, for re-use in other rare-disease data-aggregation initiatives, will be a priority.
WP8 Management, led by MEYER (Augusto Vaglio), will orchestrate the activities of all the other WPs, ensure the team works effectively together, and liaise with the EJP administration as required.